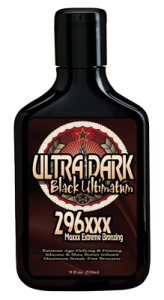 This time of the year finds seasonal tanners, showing nice looking tans and for the most part looking for help reaching even darker levels of tan. With that in mind it is important that when you are looking for ways to advance your tans you should consider investing in a more advanced lotion that will help your skin replace moisture lost while tanning, a lotion that will help your skin fight off free radical damage with a formula loaded with vitamins, minerals and natural botanicals. This lotion that I would like to see each of you using is one that will help you develop a great tan and leave your skin looking and feeling great.
Just when you thought you had tried them all the new ULTIMATUM is introduced. Black Ultimatum will take you beyond any dark tanning results you have dreamed of with its finely tuned ingredients, master blended formula rich with silicones and infused with Shea Butter. The levels of vitamins and minerals are high, it is loaded with anti-oxidants to fight free radical damage and the signs of aging. Our Black Ultimatum is loaded with the World's finest Maximizers and accelerators needed to help you reach extreme levels of rich dark tan. In addition a new Maxxx Extreme Bronzing 296xxx blend has been added to this lotion for fast dark results.
Treat yourself, you are worth it and I am very sure you will love the results.