by Marshal Hoss
 We have just released a new version of our most popular Moisturizer. Hemperor with Natureshea. This moisturize has been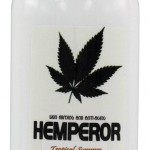 a very big seller for our company for several years now and that is what prompted us to bring out yet another version. The new version of Hemperor is called Tropical Summer. With this new release you are getting our top selling Moisturizer and new exciting Tropical Summer fragrance. I might add that this fragrance is a new and very appealing fragrance just right for any of our most particular customers.
HEMPEROR™ with Naturshea is a Skin Firming and Anti-Aging Moisturizer with a wonderful silky smooth feel. Rich in shea butter this wonderful herbal moisturizer provides superior skin
  rehydration through the latest innovations in natural science. Hemperor goes several steps beyond your average herbal moisturizers with the latest discoveries in natural skin care and green technology. Maximum levels of Shea Butter, natural Hemp Seed Oil, Silky Silicone, Monoi Oil, Sweet Almond Oil, Jojoba Oil, Vitamins C, E & A, Natural Anti-Oxidants, Omega Oils, Ginseng, Tea Tree Oil and more are scientifically blended in perfect ratios for maximum skin health and nutrient distribution.
If you are in the market for an excellent moisturizer, this one is for you. It is available on our web site www.hosssauce.com. When you purchase from our web site you will receive free shipping as long as you live in the United States.
Hemperor is available in an 18oz bottle or the professional size, Gallon