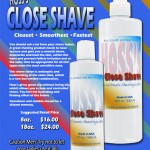 by Marshal Hoss
We have just reduced the price of our all new and exciting Close Shave, making it more affordable and priced so more of you can enjoy it.
We have been manufacturing quality lotions since 1991 and we would have gone the way of many of the brands that we have all seen come and go, if it was not for our high quality control and testing procedures. You deserve the best and that is our goal.e just restructured our pricing on our new and very exciting Close Shave Lotion. We just feel that the economy being what it is and most everyone is trying to stretch the dollar, we wanted to help. We are giving you a product that clearly is worth more but if you love it that is all that really counts.
One of the most exciting things about this Shave Lotion is that your really do not have to wash it off after shaving, just wipe and the lotion absorbs in to your skin making the newly shave area feel silky smooth and very soft.
We had this product in the hands of barbers, stylists and end users for at least a year prior to releasing it. We did not want to just release something that may or may not do what we say, that is not our style. We believe in new product testing and all I can say is that everyone that has use it, is very satisfied and believes it is the best.