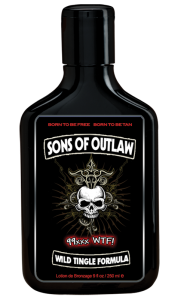 Serious tingle users just like you have been asking us for quite some time when we were going to come out with a tingle lotion hotter and better than any we have ever made. We have spent well over year researching and developing a way to deliver better skin care, more powerful acceleration and hotter tingle to you.
And WE DID IT!!! Your patience has been rewarded with this new generation of tingle lotion. Meet the just released SONS OF OUTLAW featuring better skin care, more powerful acceleration and tingle that is hotter than ever developed for you ,the serious tingle fan. You will notice greater results with just your first use.
SONS OF OUTLAW delivers. Our testing process showed individuals going from a fair tan to a dark tan after just one use. Repeated use showed the tans getting deeper and richer looking with each use.
This is so much more than a loition with a little tingle. This is a very high quality skincare product that includes the additional features of powerful acceleration ability and hotter tingle. This dynamic lotion will not only get you a deep, dark rich tan but will leave you with soft, younger, vibrant skin.
The careful formulation of this lotion includes a blend of the highest cosemtic quality anti-oxidants to help diminish environmental free radical damage plus vitamins and minerals to leave your skin soft, smooth, supple and well hydrated. Our special blend of tingle and aloe helps stimulate collagen to allowing skin to look younger and more vibrant.