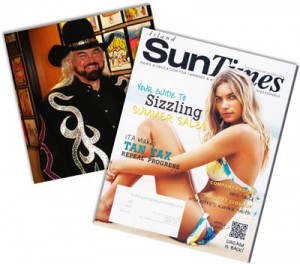 By John P. Ribner – Island Suntimes Magazine
Creating unique products with equal amounts of character and quality is the tanning industry legacy that Hoss Sauce continues to live each day.
All good things start with an idea, and Hoss Sauce – both the company and its products – are no exception. In 1991, Dale "Hoss" Hansen created his unique tanning lotion brands to address a void he saw in the market at that time – products that deliver super-moisturization. Since those beginnings, the small, independently-owned lotion maker with the one-of-a-kind name and image has continued to carve out its niche in the industry without losing sight of its original emphasis on quality. For two decades, Hoss Sauce has been known for its exciting tingle products as well as tanning maximizers, moisturizers and now sunless products, showing that this Portland, OR company is no one-trick pony, but a living legend instead!
The Legend Begins
For many who became tanning industry pioneers, it all started once they tried indoor tanning for the first time. It was exactly that way for Hoss Sauce owner and founder, Dale Hansen. "My friends all tanned and they kept pressuring me to give it a try," he said. "When I finally did, I fell in love with the experience. I just wished that the lotions we used back then delivered more moisturization, which got me thinking about doing it myself." Hansen was serious about manufacturing tanning products; so serious, in fact, that he invested two years in intense research and development to create what would become his first formulas. All he needed was a name. "I'm a big guy, like the man who played Hoss Cartwright on the TV show 'Bonanza', and I have a black cowboy hat similar to the one he used to wear," Hansen said. "One day, a friend of mine started calling me 'Hoss' and the name stuck. One of the chemists who helped develop our first products suggested I call it 'Hoss Sauce' and I liked the idea." Hansen's lotions and company debuted at a 1992 tanning tradeshow in Chicago, where he dressed in a long, black "duster" coat, a 10-gallon hat and other Western gear to help promote the new brand.
Although Hansen is one of indoor tanning's pioneers, he's made changes at Hoss to keep pace with the ever-evolving industry he serves. "One of the biggest changes we've made is the decision to offer our products directly to our tanning salon clients," Hansen said. "One of the most obvious benefits of adopting this business model is that we can offer significant savings to salon owners, and it's brought even bigger benefits to our product development – the direct contact with salon professionals allows them to tell us exactly what tanners want in lotions, and we provide it. This is one of the biggest reasons our latest products have been so successful!" Close customer relationships also allow the Hoss Sauce staff to provide product education directly to salon professionals.
Today, Hoss Sauce designs, manufactures and markets its popular tanning products from a newly-built office and production complex in Portland, OR. The facilities occupy 36,000 square feet, with about 15,000 square feet of that dedicated to its new, state-of-the-art manufacturing center. The company employs 14 people, including Hansen's son, Daniel, who works in the design and manufacturing levels.
Outlaws, Alaska & More!
A long time ago, Hansen learned that people would remember him if he made a unique impression upon them. He has never lived up to that old adage more than with his dedication to the Hoss Sauce brand. The result was the Western theme that many of the company's early products featured, especially its Outlaw line. This tradition of uniqueness continues today with its Sons of Outlaw Wild Tingle Tanning Lotion. "People were asking us for a tingle product that was even hotter than what we already had, and we responded," Hansen said. "In addition to the tingle ingredients, it features a Vanilla Pomegranate/Touch of Cherry fragrance and plenty of moisturizers, and continues to be a very popular product. In the continuation of our successful Outlaw line, we named this Sons of Outlaw, which also plays on the popularity of the 'Sons of Anarchy' TV show."
Wasilla Tan is a popular Hoss Sauce lotion that features the company's unique marketing approach. A city in Alaska, Wasilla gained international attention in 2008 when its former mayor, Sarah Palin, was chosen by John McCain as his vice-presidential running mate. As far as Hoss Sauce is concerned, this is "Big Tan Country", and the company incorporated this into a product they describe as a "Rogue Maximizer". "People love it because it appeals to just about anyone who enjoys UV tanning," he said. "It contains no bronzers or tingles, just a blend of effective ingredients designed to help maximize the tanning experience, and it's complimented by a Pomegranate/Berry Wine fragrance." For those who love bronzers, Hoss Sauce Super Dark Black Bronze continues to be a top-seller. "Many of our salon clients told us their tanners wanted a bronzing product within the $20 price range and we responded with this!" he added.
Hoss Sauce offers many product lines to provide tanning salon pros with everything their tanners might enjoy. For example, the company recently entered the sunless tanning product category with its Sun Sauce line, which features sunless spray solution, moisturizers and bronzing lotions. For those who enjoy the moisturizing effect of Hemp Seed Oil products, the company offers three distinct lines of bronzing tanning lotions and moisturizers – Hemperor, Exotic Hemp and Hoss Hemp. "No matter what type of product we're making, we pride ourselves on creating lotions that outperform the claims we make about them," he added.
The Legacy Continues …
As the tanning industry continues to evolve, Hoss Sauce plans to evolve with it while still maintaining that distinctive character that's made it unique for two decades. And Dale "Hoss" Hansen and his loyal crew know they're more than up to the task. "We definitely have our niche in this industry," he said. "We've always been a quality-driven company, and we plan to stick to our guns on this by continuing to do the research and development needed to continually improve our products. It's this and the support of our loyal tanning salon clients and their tanners that continue to make us great!" Hansen says he also understands and appreciates the communication Hoss Sauce enjoys with salon owners, and plans to continue the relationships his company has with tanning professionals while also making new ones. "We're happy to answer questions and offer help," he added. "All salon pros have to do is pick up the phone and give us a call!"
Twenty years in indoor tanning certainly makes for a long ride, but Hoss Sauce hasn't come to the end of the trail just yet. Far from it! Instead of riding off into the sunset, this veteran lotion manufacturer plans to keep giving salon professionals a square deal by creating quality products like only this small, family-owned and operated company can!